Post-conflict Economic Development
At CEDAC we understand the importance of supporting peoples' ability to improve their economic situation. Our goal is to improve the lives of the people by providing income generating projects and vocational training. By improving the economic capacity of society, we give hope to the people, while reducing the recourse to violence by helping to alleviating poverty.
Income Generating Projects
The concept of income generation has a long history in the work of CEDAC. It begun, as we begun, at the end of the civil war in Burundi. As combatants were being demobilised, they were given projects to help rebuild infrastructure damaged during the fighting. In conjunction with the United Nations Development Programme (UNDP) we constructed a project that assisted in providing ongoing income generation for the participants. This has since been incorporated into our peer-to-peer psychosocial programs. We have incorporated income generation into our peer-to-peer programs as a means of not only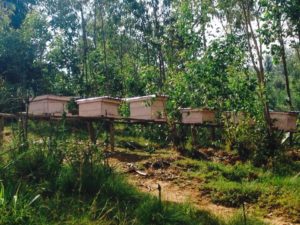 improving the lives of our beneficiaries, but as a means of binding the group together. The income generation could be making honey or the growing of onions, which are then sold to another group who then sell them at a market. This provides an opportunity for ongoing income to the individuals within the group while also creating deeper bounds between them. By using income generation as a means strengthening these connections, we build a better network between the participants. These networks then act as support mechanisms for the individuals. Income generation not only helps to alleviate poverty for the beneficiary and the wider community, it helps to support the psychosocial programs. Our income generation projects help to support the economic and psychosocial development of the individuals and the wider society.
Vocational Training Centre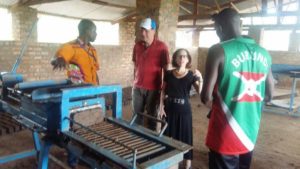 CEDAC, in conjunction with Terra Renaissance, Japan, have built a vocational training centre in Muramvya, Burundi. This training centre was built to help a community traumatised by war and who lost the opportunity of education. The centre works with people to improve their prospects of ongoing income generation through education. The centre uses the local environment to produce training schemes such as brick making or pottery. The soil in the area is high in natural clay. We have also conducted successful vocational training projects on the production of honey and bee keeping. The centre has been very successful at training people in a range of vocational skills. In turn, these skills have helped to create ongoing employment opportunities and economic development for the region. These two programs – in conjunction with other economic integration projects – have help individuals gain ongoing income, while helping to alleviate poverty in the local community. It is our belief that we not only continue this work in Burundi, but help develop stable income generation throughout the region. By giving people employable skills, they have the opportunity to gain sustained and ongoing income for them and their community.