On 17 February CEDAC Australia, CEDAC Burundi, RECOVI held a project to raise awareness of escalating violence and the increase in small arms and light weapons in the country. The project launched in Bujumbura, Mukaza Commune where there has been an increase in violence and homicide.
The event speaker from CEDAC Australia, Mr Cedrick discussed the importance of disarmament as being key to propensity and dynamic development. While, the representative from RECOVI explained that 'people do have to bear in mind that an arm in their house, office, and vehicle is a death.' The crowd who attended both in person or tuned in via the television and radio broadcast w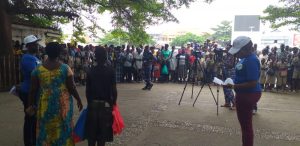 ere reminded that small arms and light weapons played a major role during the civil war and that Burundi has gun control laws. There were also prizes given out to audience members who gave the best responses and could best promote gun control. These prizes included jerrycans, umbrellas, farming equipment and the like.
The crowd of participants was around 3,000 while an estimated 5 million tuned in via the radio and television. The event was aired live on RTBN, the national broadcaster of Burundi.