Disarmament is the Way to Sustainable Peace and Security
On 17 February 2021, we launched an initiative with CEDAC Burundi and RECOVI to promote disarmament in the country. The project has been launched in Bujumbura with the support of the government and civil society organisations to promote stability of peaceful communities with sustainable development. Click here to keep reading!
Some Great Recognition in Burundi
Over December and January 2020, Eric traveled to Burundi and the DRC to have CEDAC Australia registered. CEDAC Australia is now the first Australian aid organisation operating in Burundi. Eric also received some great feedback and a commitment from the government on the future of our work. Click here to keep reading!
Beekeeping in Muramvya Province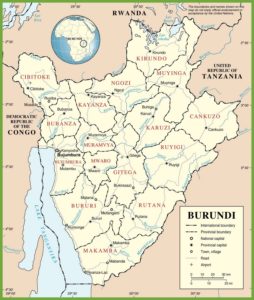 CEDAC Burundi is running a beekeeping project in Kiganda district, Muramvya Province. The project takes groups of local people and assists them in beekeeping and honey production. CEDAC has provided the necessary tools for the project like hives, fumigating pots, the equipment for the filtering and packaging the honey for sale.
The Production Cycle
The project ran training programs for participants that follows the natural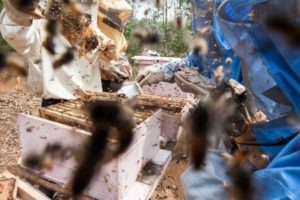 life cycle of making and selling honey. The project begins with the placement of hives to attract and care for the bees (please see pictures below). Here we see some innovative tips to encourage bees into the hives, including placing them in trees. In the next stage we see the honey being collected and filtered before being packaged into clean bottles for sale.
The next step was how to label the honey and market it for sale. The groups were brought together and asked to bring flowers from their villages and what makes them special. The group was asked to select a work in Kirundi, a colour and an animal for the marketing of the honey. Amahoro Honey was born. The word amahoro is Kirundi for peace, white was selected because it is the colour of peace while a bunch of wildflowers is on the lid. The wildflowers were chosen because they represent the source of the honey and pollen for bees. The participants selected three different labels for the honey, but all are Amahoro Honey with white labels and varying patterns.
How Honey Helps
The rationale for the project is to provide income generating opportunities for the inhabitants of the region. By providing the people with the ability to earn a living, CEDAC is not only helping them out of poverty, but also assisting the region economically. The project also builds a sense of community within the region as people come together to help one another using beekeeping. The honey really does foster peace!
The project was supported by Terra Renaissance, a Japanese non-governmental organisation that supports our work in Burundi. We are thankful for the continued support that Terra Renaissance has offered CEDAC Burundi.