Hi, I am Joel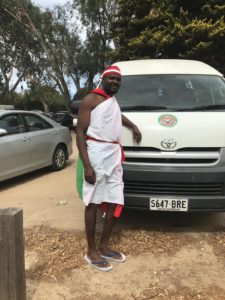 Joel Hakizimana is originally from Burundi, but now calls Adelaide, South Australia home. Joel had to flee to Tanzania in 1996 to escape the civil war in Burundi which raged from 1993 to 2005. It was in 2005, the same year, that Joel came to Australia and settled in Adelaide as a refugee.
It was hard having to start all over again in a new country, but Joel is now happy in Australia. Since arriving in Australia, Joel has married and now has four children, two boys and two girls. Although he is engaged with CEDAC Australia, he also works for the South Australian government in the Department of Child Protection. Joel is still firmly connected to the
Burundian community. He is active in both the diaspora community in South Australia where he is a member of the local Burundian drumming squad and in Burundi where he is engaged with his community of origin.